A small tweak to your range can make all the difference to your sales. Stock these five trends and get ready to see some fresh faces through the door, and your regulars beaming. 2019 has seen another year of health trends in the food sector, with the growth of Veganuary and governmental sugar reduction targets hitting the headlines. Does this enthusiasm for abstinence threaten turmoil for the sweet bakery sector? Absolutely not. In fact, the cake category saw a 6% increase this year, hitting £1.7 billion (MCA, 2019). What accounts for this delicious dichotomy? Innovative product development, embracing and monopolising on these trends, is driving growth in the Out of Home market. Mini formats, permissible indulgence and the unstoppable rise of free-from are increasingly visible on the high street and are supercharging sales across the category. Make sure your outlet has everything it needs to take a chunk by filling your counter with these trends.
Number 1 – Mini Formats
Tiny cakes are getting massive. Consumers are moving away from overindulgence and opting for smaller portions of their usual treats. In addition to being a healthier option, mini formats offer convenience as well as diversity in a cake display, with the opportunity for innovative new decoration. This trend is already in full swing - so don't be left behind. Our recently conducted research revealed 8.3 million coffeeshop goers purchased mini cakes in 2018 Q4 (Mademoiselle Desserts, 2019). The Handmade Cake Company's newly launched range of mini cakes are perfectly positioned to answer the growing call for permissible indulgence. Each offers a premium treat feeling, on-the-go convenience and visuals so mouth-watering you can't resist. Our range of truly marvellous mini cakes are beautifully finished to help you light up your display and make it onto your customers' social feeds.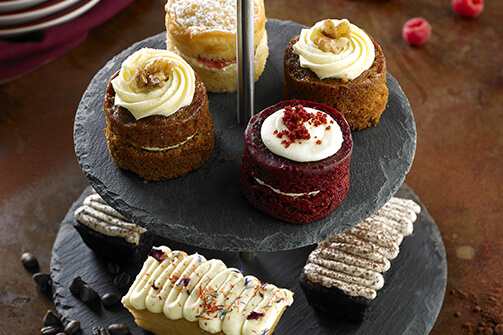 Number 2 – Veganism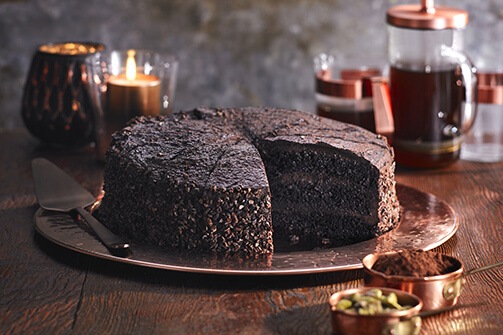 Veganism is currently booming and has been flagged as Food Trend of the Year by The Food People in their latest report (The Food People, 2019). How has it gained such a glossy crown? The Vegan society found there are now more than 600,000 vegans in Great Britain, quadrupled from 2014 (The Vegan Society, 2019). Veganuary is a big contributor to converting dairy lovers and this year saw an 183% rise in participation (Veganuary, 2019). Once disregarded as a niche fad, Veganism is now being taken seriously by the industry; the UK was recently designated as the European Vegan Food market Leader by Mintel, ahead of Germany, with 16% of food products launched in 2018 claiming to be vegan (Mintel, 2019). Though vegan cakes are no longer just seen at the same tables as MacBooks and carefully landscaped beards, they still represent a lucrative opportunity to attract new demographics, and with them, the chance for free marketing through Instagram posts of pretty vegan treats.
Number 3 – Gluten-Free
Though its trajectory is slowing, gluten-free has been one of the most significant movements in bakery over the last four years and 13% of the UK population is now avoiding gluten (Mintel 2018). Previously, gluten free and vegan have been tarnished with a subpar reputation when it comes to cakes. However, free-from aficionados are no longer banished to the lands of dry, 'ooh that's a weird after taste', not-so-much-of-a-treat treats. Dedicated teams of development chefs, such as ours, have long since cracked the code on exceptionally delicious and fluffy cakes without the gluten. As such, if a product is well developed, you should be able to offer it to free-from and non-free-from consumers alike. Consumers now expect to indulge on a product that's as good as its standard sibling. This is how we approach all free-from development at The Handmade Cake Company, with each bake having to be exceptional in its own right, not just 'good for a free-from product', before it can leave the kitchen. Our fully segregated gluten-free bakery means we offer total peace of mind to our customers at a time when ensuring the validity of allergy claims is crucial to an outlet's reputation.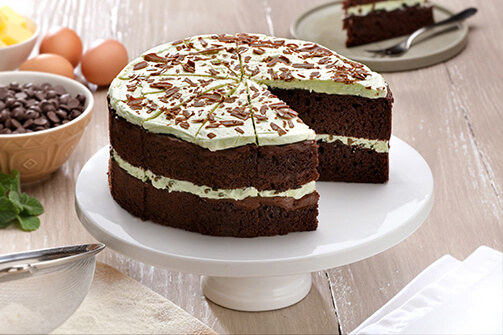 Number 4 - Botanicals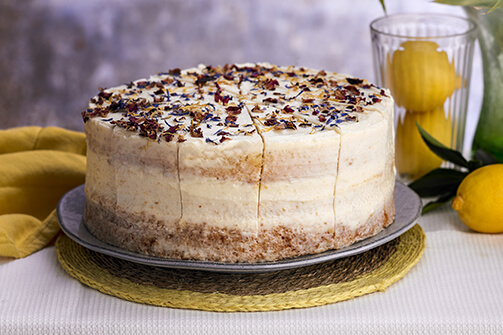 Botanicals are in bloom in 2019. The use of aromatic herbs, flowers, plants and vegetables in cakes might seem like an old idea, but like scrunchies and record players, they're back in force for 2019. We've seen botanicals everywhere this year: driven by the sustained growth of the plant-based movement, they've taken root in the category. To help operators take advantage of this, Mademoiselle Desserts has just released a three tier Lemon & Elderflower Cake. Three layers of lemon sponge sandwiched with elderflower frosting and elderflower sauce. Finished with a semi-naked covering of elderflower frosting, scattered with a mixture of dried flower petals to add natural colour to a display. It's a summer must for any display.
Number 5 - Fusions
Cronuts, Cruffins and Duffins! The Dr Seuss section of bakeries are filling with ever more fantastical fusions. With Brexit creating a turbulent economy, consumers are gripping their purses and wallets a little tighter while, simultaneously, millennial experience culture is driving a desire to try new things. Enter the fusion. Why spend money on experimental new products, which may risk disappointment, when you can try a mix of two classics you already know you love? This trend is far from exhausted, with hundreds of cakes yet to be Frankensteined and shoppers hungry for more. One example of this trend is Mademoiselle Dessert's Brookie, combining a brownie and a cookie for a modern take on two timeless favourites. So, what are you waiting for? Time for a range revamp that will revolutionise your cappuccino sidekick… and we have everything you need.